Artists: Ansgar Silies, Till Nachtmann, Stefan Silies, Yu Zhang
Opening: 27 of August, 2020, 17:00-19:00
Opening event: "Science&Art Salon", 27 of August, 2020, 18:00 – 19:00, guest: Mathias Funk
Opening hours: 27 of August – 6 of September, 2020, Thursday – Sunday 13:00-17:00
Location: Albert van Abbehuis, Bilderdijklaan 19, Eindhoven, the Netherlands
Support: Albert van Abbehuis, MAD emergent art center and Cultuur Fonds Eindhoven
THEME
Technologism is not an instant or snapshot, it is a process of how technology permeates our lives. The artists in the exhibition select and transform observations of this process and how the Everyday or future technologies polarize us.
This exhibition shows how individual artists select different aspects of this process and thereby project their unique perspectives of technologism. The artifacts in the exhibition are photos, interactive objects, and audio installations that result from collected data, models of behavior and live interaction transformed through an artistic process. This exhibition shows the diversity of artworks and reflections on the deep involvement of data and interaction in art. The four artists work on unconventional forms of art, proposing a new curious, calm, secretive, and embodied side of technology that is an artistic reflection of the mass-produced narratives of consumption that seem to be everywhere nowadays.
EXHIBITION VIEW
MAP AND PRINTS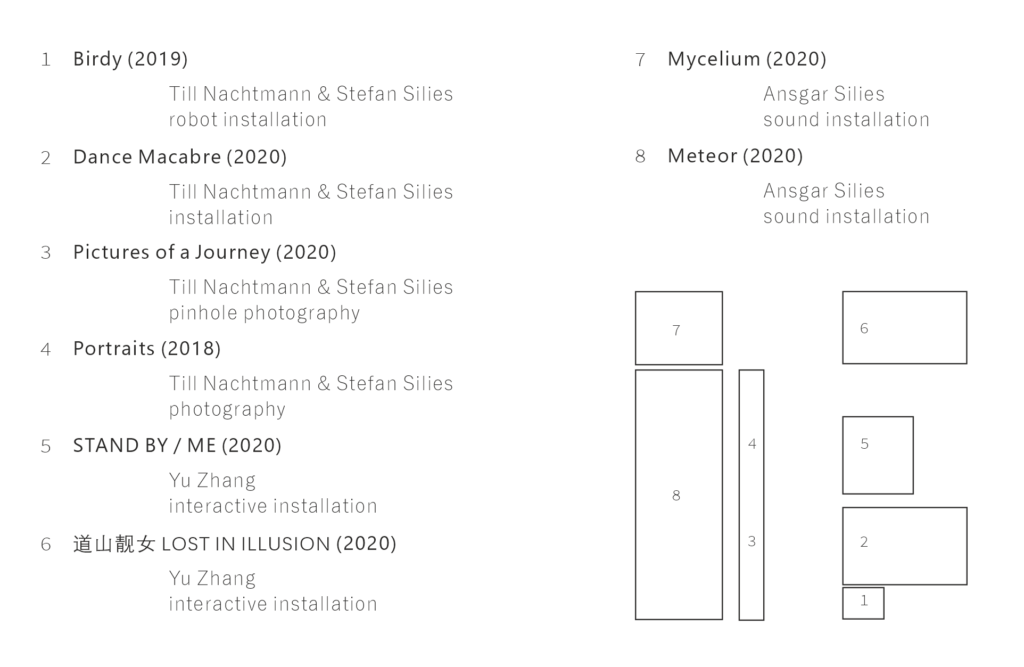 BIOGRAPHY
Ansgar Silies (http://www.ansgarsilies.de/) is a sound artist, scenographer and theatre musician. He studied scenography with Prof. Colin Walker in Hannover and worked for a number of German theatres and art associations in Essen, Dortmund, Bonn, Regensburg etc. In his sound art he explores the boundaries between nature and technology as well as the spatial perception of sound. Ansgar Silies is the winner of the artist grant 2009 of the Emsländische Landschaft e. V.
Till Nachtmann and Stefan Silies (http://www.nachtmannsilies.de/) work with puppets and animatronics. Their installations combine analogue technology with automated processes, producing new images and contexts. Till Nachtmann and Stefan Silies are Co-Founders of PuppetEmpire. They live in Cologne, Germany. Their work and installations have been exhibited in Germany and abroad.
"In their films and installations Till Nachtmann and Stefan Silies create a parallel world which mirrors the real one as a distorted image. With simple means – socks, textiles, and found objects – they create a grotesque rage of different animated characters." (Christoph Kivelitz (†), city gallery Dortmund)
Yu Zhang (https://www.yuzhang.nl) approaches visual art with mixed reality installations and projections, sensor-based interactives, and computational arts. She uses systems design toolkit, to realize a complex multifaceted experience playing with the spatiotemporal context of audience's interaction with the installations when digital and physical converge.